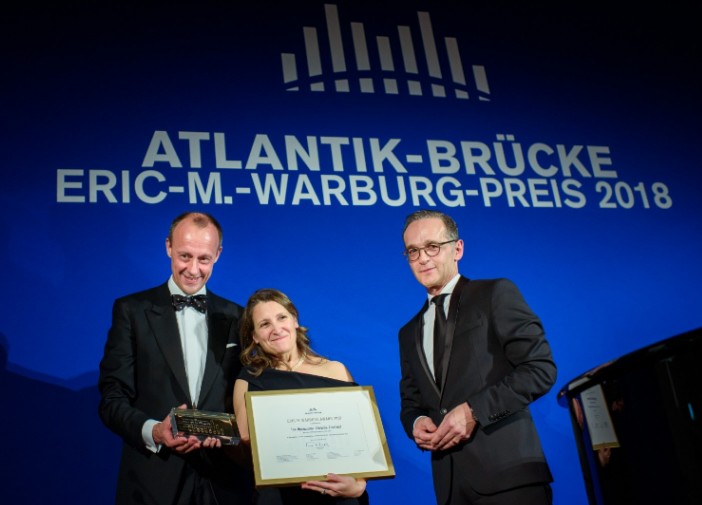 MPs who serve a foreign state or its proxies are double agents. A double agent is a spy pretending to serve one government while actually serving another. Germany's proxy, the World Economic Forum (WEF) provides compelling evidence that Chrystia Freeland is a double agent. World Economic Forum boldly states that Chrystia Freeland serves Germany through it's proxy the WEF:
The Board of Trustees serves as the guardian of the World Economic Forum's mission and values

Davos-Klosters, Switzerland, 25 January 2019 – The World Economic Forum announces that Chrystia Freeland, Minister of Foreign Affairs of Canada, and Fabiola Gianotti, Director-General of the European Organization for Nuclear Research (CERN), join its Board of Trustees.

The Board of Trustees is the highest-level governance body of the World Economic Forum.
Chrystia Freeland being a double agent was made perfectly clear in April 2019 when she joined a Germany initiated and lead alliance to save the international world order, the UN, from destruction. The alliance serves Germany's strategic interests.
Since WWII Germany has been trying to establish a World government under German control. Germany's WWII envisioned Neuordnung (New Order) relies on traitors like Canadian MP Chrystia Freeland assisting it acquire control of the United Nations Organization via a financial takeover.
In October 2019 the United Nations Organization declared that it was insolvent – "risks defaulting on payments to staff and vendors". Germany is using the UN's cash crisis to obtain control of the UN. Germany is attempting to acquire control of the UN by using debt financing. After all, Germany successfully reoccupied Europe using debt financing. EU states have surrendered their sovereignty to Germany in exchange for debt financing.